We are excited that you are visiting our web site. Our family is here to provide unique adventures in husbandry with the opportunity to obtain breeding stock pigs as well as feeders and meat that is without equal in our estimation.

On this site you'll find information about our Pigs and facilities, along with descriptions of our special relationship with them. We hope you will find all of the information you are looking for if you would like to obtain some of these fine animals in the midwest area.
Hand fed and loving it!
Our pigs get personal attention daily.
7 Month old Luna and Nova
Growing daily the girls are now at 300# and getting ready to be moms.
Luna and Nova play ball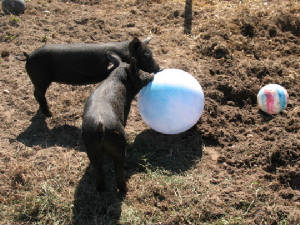 At 3 months old the foundation gilts are full of energy and fun.
Spring bathtime March 22, 2009